The Coalition aims to provide the best available tools and resources for improving honey bee health. We coordinate across sectors to develop practical and effective materials for a variety of audiences. Tools and resources are available free of charge, though we ask that you please reference the Coalition if distributing.
Tools for Varroa Management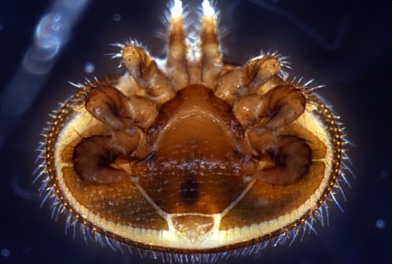 Every honey bee colony in the United States and Canada either has Varroa mites today or will have them within several months. Varroa mites infestation represents one of the greatest threats to honey bee health, honey production, and pollination services.
Click here to learn about Varroa mite treatment.
The Bee Understanding Project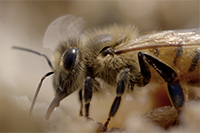 We asked beekeepers, growers, entomologists, and crop advisors to swap jobs and look for ways they could work better together. Their experience was captured on film, so you can watch and see what they're doing differently.
Click here to watch the film
Click here to watch the trailer
Learn more about the project
Managed Pollinator Protection Plan (MP3) Resources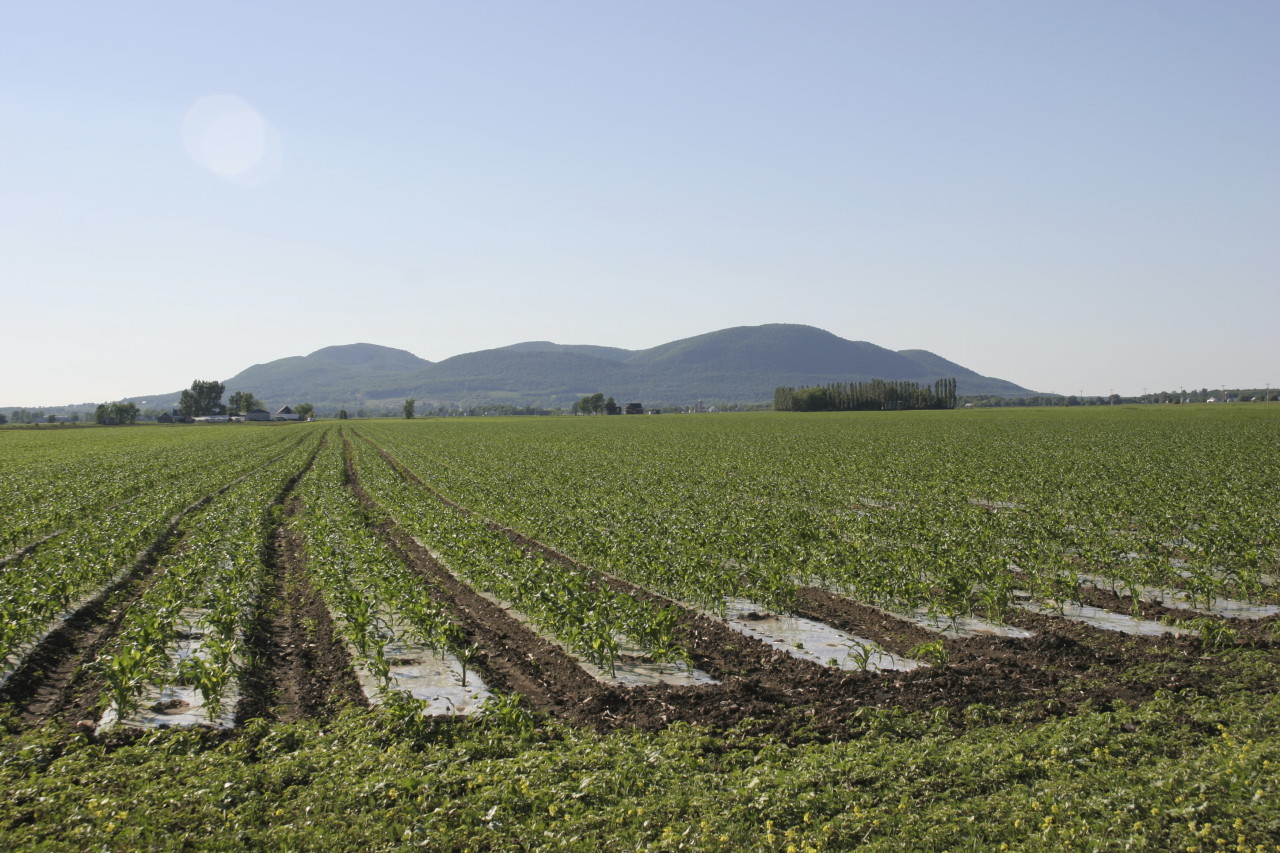 Most states efforts to date have focused on developing MP3s as effective tools for increasing communication among stakeholders and mitigating acute exposures of bees to pesticides.
Click here to read more about MP3s
The Grower's and Beekeeper's Role
Proactive communication between growers, applicators and beekeepers is essential to protect honey bees from unintended pesticide exposure. Beekeeper and landowner cooperation based on mutual interests is important to mitigate risks of pesticide exposure to pollinators.
Click here to learn about the Grower's and Beekeeper's roles.
Pollinator Health Task Force Outreach
The Coalition's Steering Committee has provided recommendations to the National Pollinator Health Task Force to inform the 2015 National Strategy to Promote Pollinator Health and the accompanying Research Action Plan.
CAST Paper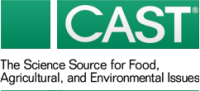 The HBHC provided direct and in-kind support to CAST to produce a paper summarizing the latest science related to declines in bee health. The paper, released in June 2017, discusses methods used to document colony losses, recommendations for research, and suggestions for beekeepers, land managers, crop producers, homeowners, and policymakers to engage in helping to ultimately restore healthy populations of honey bees and other pollinators.
Incident Reporting Guide
Identify and implement Coalition actions to promote and improve beekeeper incident reporting regarding crop pest management- related bee health incidents.
Download the Incident Reporting Guide.
Informational Resources about the Coalition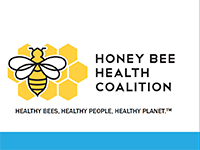 Access information about the Coalition:
The brochure
Coalition overview presentation (PowerPoint)
Coalition overview presentation (PDF)
Video
Focus on Forage series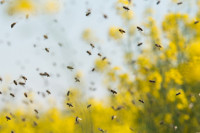 Bee forage creates multiple benefits for pollinators, crop production, biodiversity, soil health, water quality, and other agricultural interests. The Focus on Forage Series highlights how the Honey Bee Health Coalition, its members, and other partners are working on-the-ground and leading innovative efforts to create honey bee and pollinator forage. Click here to view the Focus on Forage series.
Forage recommendations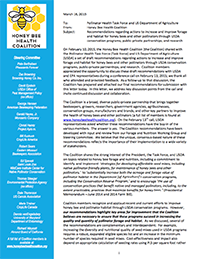 The Coalition regularly submits recommendations to the National Pollinator Health Task Force. Read more about our recommendations to increase and improve forage and habitat for honey bees and other pollinators through USDA conservation programs, public-private partnerships, and research.
March 2015 recommendations
January 2016 recommendations
The Bee Healthy Roadmap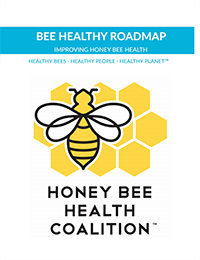 The Coalition's Bee Healthy Roadmap lays out specific priorities and actions that it will take to reverse these declines and improve the health of honey bees and other pollinators. The Bee Healthy Roadmap identifies four priority areas that need immediate and consistent action from partners across the landscape.