Beekeeping clubs and associations are key to making Mite-A-Thon, which runs from Saturday, September 8, through Saturday, September 15, a success! Please help us spread the word about this exciting citizen science project.
A single Varroa mite infestation can spread quickly and devastate hives across an entire region. Early detection and control are key to preventing catastrophic infestations and supporting honey bee health.
That's why the Honey Bee Health Coalition, which has developed essential Varroa mite resources, is proud to support the second annual Mite-A-Thon.
The Coalition urges beekeepers to participate in this free event that will track mite populations across North America so that you can see how your region fares and which areas are hit the hardest.
Join the Count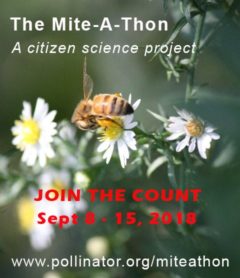 The Mite-A-Thon is a tri-national effort to collect mite infestation data in North American honey bee colonies.
All beekeepers in Canada, the United States, and Mexico are encouraged to participate. The anonymous data will be used to visualize Varroa infestations on a map and help beekeepers and others fight these destructive parasites.
Participants will first test the mite level in their hives using a standardized assessment method — either powdered sugar roll or alcohol wash — during the one-week window. They will then upload their data (location, total number of hives, number of hives tested, local habitat, and the number of Varroa mites counted from each hive) at www.mitecheck.com.
Last year, more than 900 beekeepers participated in inaugural Mite-A-Thon. We hope for even more participants this year, especially from the top honey-producing states, to create a more accurate picture of infestation levels and develop effective management strategies.
What You Can Do
– Encourage beekeepers to participate in the Mite-A-Thon count in your meetings, newsletters, emails, social media, etc.
– Help beekeepers prepare their testing kits.
– Support beekeepers in ensuring they are able to monitor mites effectively and report their data.
Beekeepers and others can learn more about Varroa mites and best practices to monitor and control them by visiting honeybeehealthcoalition.org/varroa/.
The Mite-A-Thon is supported by Pollinator Partnership, the North American Pollinator Protection Campaign (NAPPC), and numerous partners, including the Honey Bee Health Coalition